Bridgey07

Add Bridgey07 as a friend

Bridgey07 will be notified and will have to accept this friendship request, to view updates from Bridgey07 and their ratings you must follow them.

Remove Bridgey07 as a friend



About me
*29 years old
*Bachelor's--Marketing
*Married to my sweetheart, Jeremy
Lists
Recent reviews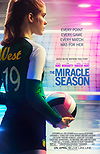 Posted : 3 years, 2 months ago on 2 November 2018 06:25 (A review of
The Miracle Season
)
Would like to start that I'm from Iowa (currently living in Cedar Rapids - 28 miles from Iowa City). I was 23 when this event happened and heard about it all over the news and just how amazing it was to hear about this team come back from a huge loss to win state for the second year in a row. It really is the stuff of fairytales. So when I heard there was a movie being made about this, I had to check it out --- and I was not disappointed! Aside from a few differences to the story (and locations), this was an amazing movie about this team and everything that occurred when Caroline passed. I was in awe, I cried like a baby and I could definitely watch this again. Anyone who likes movies based on true events, sports movies or just need a good-feel watch, I highly recommend this movie!

0 comments,
Reply to this entry
Posted : 3 years, 6 months ago on 12 July 2018 08:37 (A review of
Drinking Buddies
)
Honestly, I picked this movie because of the cast choice and the plot seemed interesting. But once I started watching, all kinds of memories came up -- the friendship between Kate and Luke reminds me of a friendship I shared with a guy friend years ago (we no longer talk now, which is sad) but it was nice to see that flow so nicely in this movie. The cast was fantastic and the movie isn't too slow paced. I recommend.

0 comments,
Reply to this entry

Posted : 5 years, 11 months ago on 14 February 2016 04:25 (A review of
Tremors 5: Bloodlines
)
I really thought this was going to be a piece of garbage (much like the 3rd and 4th installments) but for the most part, I was relatively surprised by this 5th installment! While it had its flaws, this is much better than its previous two. If you like the Tremors series, I'd definitely give this a view.

0 comments,
Reply to this entry
Movies
DVDs